We've got a special promo to launch our new pork sausages.
Pork, seeded mustard and onion sausages – don't mind if I do.
It's definitely bangers and mash kind of weather. Our latest flavour is begging to be served up with some creamy mashed potato and jus if that floats your (gravy) boat. And they will taste even more delicious because you get seven for free with our special monthly promo.
Patangata Station pure Angus beef meatballs in a tomato & herb sauce.
Now that we have you drooling all over your keyboard (or phone) don't miss out on Waipawa Butchery Kitchen's newest offering. We think our mouthwatering meatballs cooked in a tomato and herb sauce and served with penne pasta from our heat-and-eat, ready-meal range will become a firm family favourite in no time.
At $23.90 a kg, these won't be around for long
This is what our resident chef Jan has to say about this tasty cut. Find out more about her top meat tips in our interview below.
"One of the most flavoursome cuts of beef with all the goodness that comes from being cooked on the bone. The ribs come from the forequarter after the brisket has been removed. Short rib appreciates a marinade (2 to 24 hrs) and is another cut that benefits from low, slow cooking."
Meet Jan, Waipawa Butchery Kitchen's culinary genius.
Our ready-meal magician Jan has worked for Waipawa Butchery for the past 4.5 years and is currently heading up our Waipawa Butchery Kitchen. We caught up with Jan to talk WBK and seek her expert meat purchasing and preparing advice.
The worst 'meat crime' you've seen.
The worst meat crime is buying the same thing every time you shop. Ask the in-store experts for recommendations and advice. Try the blue cheese sausage, do a Kransky hotdog, or cook a tri-tip steak or a lamb rump. Never tried skirt steak…it's great for tacos.
A favourite cut of meat to cook.
Cap on lamb rump, it's such a versatile cut. A nice fat cap for flavour. Sear on both sides in a heavy pan. Finish in the oven, it takes any flavours you throw at it. Finish with lemon olive oil, salt and pepper and serve sliced over Greek salad – or head to the middle east with pomegranate molasses and giant couscous with parsley, coriander & mint.
The best thing about working in the Butchery.
A busy day, classic old tunes on the radio, beef being broken down, sausages made, patties pressed, tall tales, camaraderie and happy customers.
What the future holds for WBK
Waipawa Butchery Kitchen is exciting. We're getting a great response to our latest offerings and are looking to grow and diversify what we can offer.
A reminder locals! We deliver for $5 to:
Napier & Taradale / Havelock North / Hastings / Te Awanga
Otane/ Waipawa / Waipukurau
* town / city addresses only *
If you live in Hawke's Bay with an RD address, you can collect from c/o The Strawberry Patch, 96, Havelock Road, Havelock North.
Our online shop is OPEN 24/7

If you order via our website and live in Hawke's Bay, you will still get the option for delivery or pick up from our Waipawa Butchery shop. If you're elsewhere in New Zealand, we will pop your order on an overnight courier to any town or city addresses.
Remember when you purchase from Waipawa Butchery, you are buying true farm to plate quality100% grass fed meat.
72 High Street, Waipawa
Monday – Friday 8.00am – 5.30pm
Saturday 8.00am – 2.00pm
ONLINE 24/7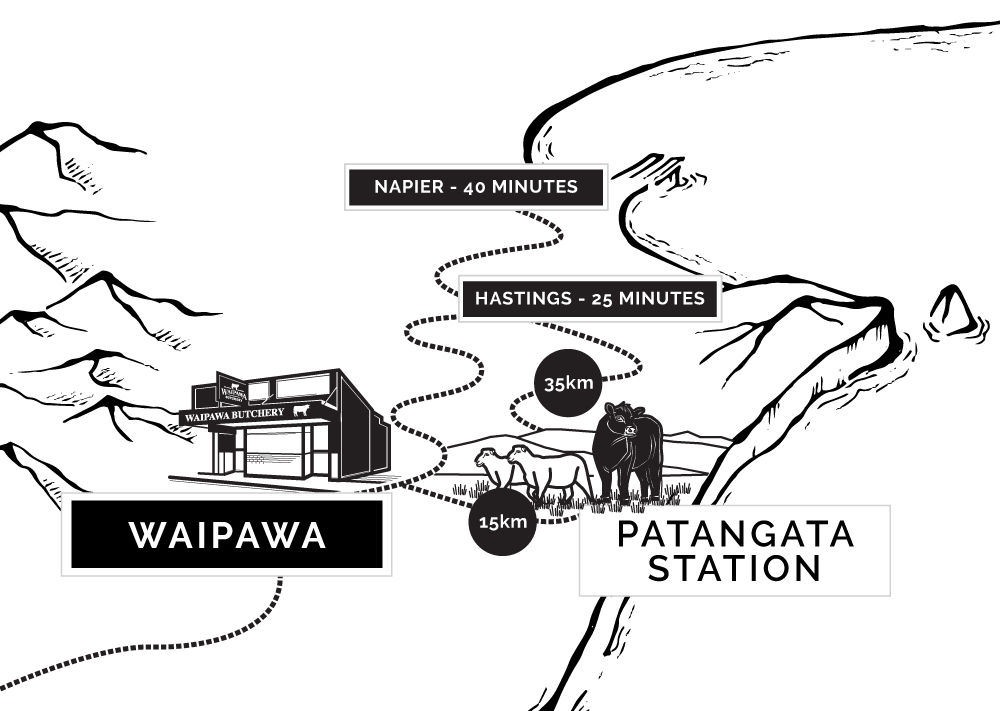 Make sure to get your orders in!
Kind regards
Annabel, Duncan and the WB team x