We giving away our new pork sausages, but only for one more week!
Try Our Pork, Seeded Mustard & Onion Sausages
Spend over $75 and they are all yours, on us!
Grab this deal while you can.
Juicy, delicious and packed full of flavour, get some of these new pork bangers on your fork. We add seven of them to every order over $75 – but only until the end of the week.
Duncan's 'go-to Thai-inspired' lamb curry.
Waipawa Butchery and Patangata Station's Duncan has come up with the goods for this week's special. A flavour match made in heaven, with enough heat to warm your cold winter bellies and served with a side of rice – this aromatic curry is bound to fly off the shelves in a hurry, so order yours today.
At $23.90 a kg, these won't be around for long
Braise them in red wine, spice them up Mexican Style, or go down the sticky BBQ route. Whichever direction you go, be sure to cook them slowly. We promise the juicy, tender finish will be worth the wait.
Meet Waipawa Butchery's Helen
Why Waipawa Butchery people are the best people.
We thought you might like to meet some of our fantastic team who make our butchery so special. The fabulous Helen has worked with us for the past 5.5 years, bringing her love and knowledge of food to our over-the-counter customers, always with a smile. Read on for some great meal tips!
What does a 'normal' day look like at Waipawa Butchery?
Every day is quite varied. I generally start checking orders before setting up the front small goods cabinet the butchers have started on, making the patties, crumbed sausages, lamb rissoles & crumbed pork/chicken schnitzel, plus a few other extra treats. Another big day is Wednesday morning when some of Jan's delicious ready meals come in. Then, in-between serving customers, I help our online specialists, Sarah or Jan, put the orders together for delivery or customer pick-up. Since we are a busy little butchery, much time is spent with customers. We have some lovely regulars that support Waipawa Butchery!
A favourite cut of meat to cook.
There are two cuts I love. Firstly, Angus Beef Tri Tip (muscle near the rump) – it's perfect as a small roast, and the other is Angus Beef Skirt – quick fry, sliced & great in tacos.
The best thing about working in the butchery.
Our small band of butchers & front of house team are a fantastic group & make life good. I can't go past our customers, who I love interacting with. It makes my day very enjoyable. I also love selling our own Beef & Lamb as traceability is very important to me, and owner Annabel is amazing with her innovative ideas for the butchery, which keeps work interesting.
What was the last thing you cooked?
I cooked a mean Beef Massaman curry with our Angus Gravy Beef – there's nothing like a warming winter curry on a cold winter's night – delicious!
A reminder locals! We deliver for $5 to:
Napier & Taradale / Havelock North / Hastings / Te Awanga
Otane/ Waipawa / Waipukurau
* town / city addresses only *
If you live in Hawke's Bay with an RD address, you can collect from c/o The Strawberry Patch, 96, Havelock Road, Havelock North.
Our online shop is OPEN 24/7

If you order via our website and live in Hawke's Bay, you will still get the option for delivery or pick up from our Waipawa Butchery shop. If you're elsewhere in New Zealand, we will pop your order on an overnight courier to any town or city addresses.
Remember when you purchase from Waipawa Butchery, you are buying true farm to plate quality100% grass fed meat.
72 High Street, Waipawa
Monday – Friday 8.00am – 5.30pm
Saturday 8.00am – 2.00pm
ONLINE 24/7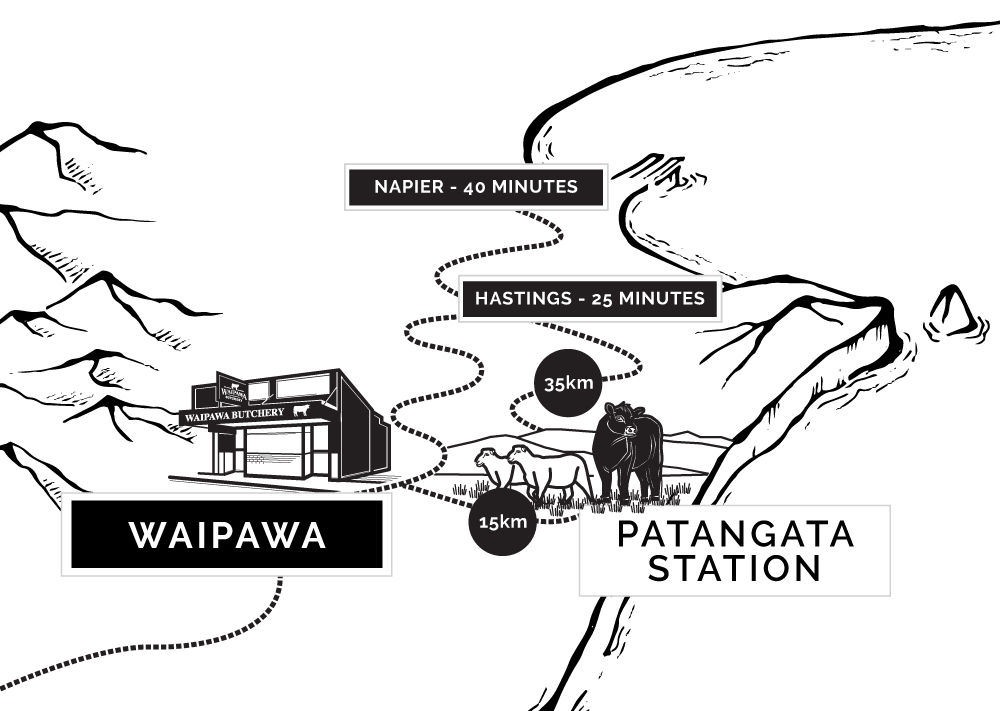 Make sure to get your orders in!
Kind regards
Annabel, Duncan and the WB team x