Spend over $75 online and 500gms of beef mince + 6 sausages are yours for nothing
FREE 500gms Beef Mince & 6 Sausages
Spend $75 or more online, and we'll add them to your order.
*Online Customers ONLY *Valid September 7th, 2023
A big 'thank you', from us to you.
We know times are tough with increasing petrol costs, heating bills, rising interest rates and don't even get us started on your supermarket spend. So, to say 'thanks for your support', we're adding 500 grams of our premium beef mince and six of our scrumptious beef and bacon sausages to every online order over $75.
Roast beef & roasted vegetables with horseradish sauce & gravy.
What could be more comforting (or yummy) than a traditional Roast Beef with veg? Lovingly prepared by our kitchen whizz Jan, this weeks WBK special will have you reminiscing about the roast your Mother used to make.
Backing One of Cricket's Rising Stars.
From Waipawa to the Cricketing world stage.
We love supporting and sponsoring young, talented and driven sportspeople, teams and associations like the very talented Will Young, who recently won against the UAE in the current Twenty20 competition over in Dubai. Not only did he score 56 runs, but Will also picked up Man of the Match for the Black Caps. Howzat! We're putting it down to all the Waipawa Butchery Kitchen Lasagne and quality meat he ate before he left.
If you look closely, you can see Waipawa Butchery at the bottom of his bat. So awesome to see the lovely and very deserving Will representing New Zealand and little old Waipawa Butchery from Central Hawke's Bay on the sporting world stage.
BBQ lamb rack with rosemary.
When we asked Will what his favourite cut of meat was, lamb rack won, hands down. Easy to prepare with a delicious pay-off, try Will's favourite lamb rack recipe – you won't be disappointed.
Rub all over with olive oil over the rack and season with salt and pepper before rubbing some rosemary over the rack.
Will cooks his meat on a Weber BBQ and adds another sprig of rosemary with the lamb to really let the flavour soak in.
Cook to your preferred level of 'done',  but remember, a rack doesn't take long to cook,  about 15 to 20 minutes at 180c (to achieve a medium rare to medium result) and always let your meat rest for at least 10 minutes prior to serving.
Serve with couscous and fresh leafy greens.
And, if you are looking for a pre-dinner 'snack', Will recommends the beef brisket and jalapeños sausages.
A reminder locals! We deliver for $5 to:
Napier & Taradale / Havelock North / Hastings / Te Awanga
Otane/ Waipawa / Waipukurau
* town / city addresses only *
If you live in Hawke's Bay with an RD address, you can collect from c/o The Strawberry Patch, 96, Havelock Road, Havelock North.
Our online shop is OPEN 24/7

If you order via our website and live in Hawke's Bay, you will still get the option for delivery or pick up from our Waipawa Butchery shop. If you're elsewhere in New Zealand, we will pop your order on an overnight courier to any town or city addresses.
Remember when you purchase from Waipawa Butchery, you are buying true farm to plate quality100% grass fed meat.
72 High Street, Waipawa
Monday – Friday 8.00am – 5.30pm
Saturday 8.00am – 2.00pm
ONLINE 24/7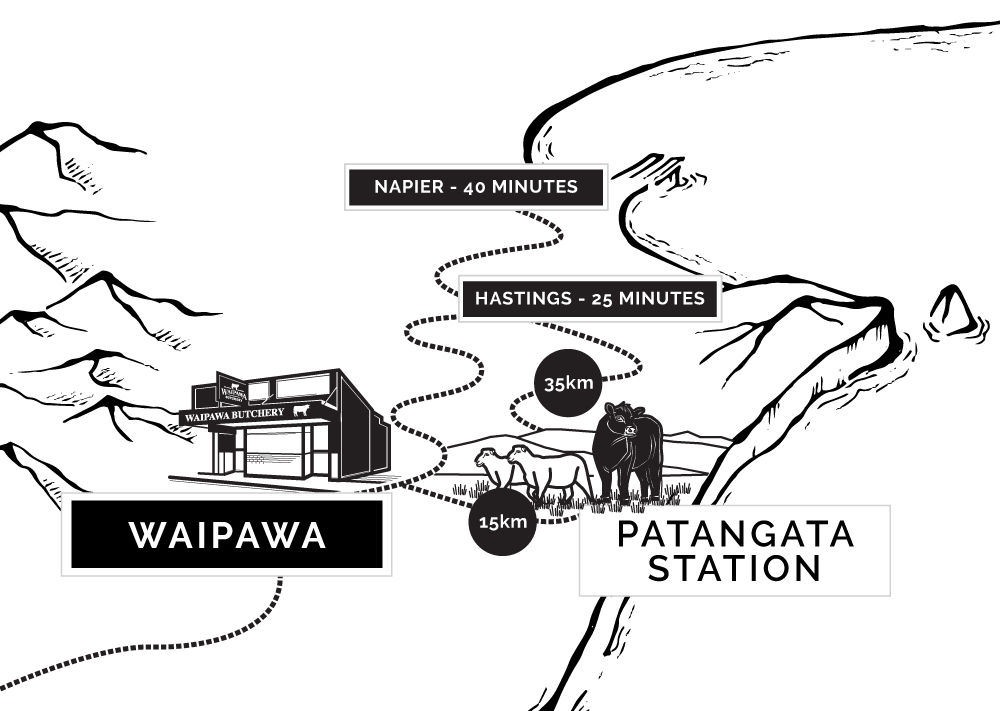 Make sure to get your orders in!
Kind regards
Annabel, Duncan and the WB team x