Don't Let Them Go Hungry!
Don't Let Them Go Hungry!
Get 10 Free Sausages & Four Beef Patties With Every Order Over $80.
*Offer available until July 14th, 2023
Feed the kids and their mates these holidays.
We know how school holidays work. Playdates, sleepovers, drop-ins and last-minute plan changes. Don't worry, we've got you covered. We're giving away 10 of our famous beef sausages and four delicious home-made burger patties with every order over $80 throughout the school holidays, online and in-store, so you'll be prepared for the unexpected.
A Butchery Star in the Making.
Meet our winning butchery apprentice Rhys.
Back in 2020, Waipawa Butchery owner Annabel was on the search for our next butchery apprentice. After targeting the local high schools in Hawke's Bay, we uncovered our incredibly talented butcher Rhys Tamanui. He's been such an asset to our talented team and we were so incredibly proud last year when he scooped up the ANZCO Foods Butcher Apprentice for 2022. We caught up with Rhys before he heads off to Wellington to compete in the Lower North Island Regional Competition, to ask him a few questions.
How did it feel to win the NZ Butchery Apprentice Award last year?
It felt so surreal, I couldn't believe it at the time. It took a few days to actually sink in that I had won.
What did you have to do to win this coveted award?
A lot of time and effort went into preparation, brainstorming, and of course, plenty of practice.
What do you love the most about being a butcher and working at Waipawa Butchery?
I love everything about the industry, but most of all, it would be the full carcass breakdown aspect. I love the type of butchery we are, I can tell you where every piece of meat came from and how we came up with the cut. We are truly farm to plate.
What do you think is your greatest skill?
I definitely think it's my display work.
Why don't you come and pay us a visit to see some of Rhys' outstanding display work? We think it's pretty impressive. We wish you the best of luck and are crossing everything for a win for you, Rhys!
We're Hiring
Are you our new smallgoods person?
Come and join our amazing team.
We're looking for an enthusiastic Smallgoods person to come and work in our busy butchery shop in Waipawa in Central Hawke's Bay.
The successful applicant will need:
To work within a team environment
Have experience in the meat industry making small goods
Be honest and reliable
Comply with Health and Safety Food Safety programmes
Waipawa Butchery's beef and lamb are supplied from their farms, a true paddock-to-plate business, using full carcass breakdown with old-school butchery techniques in a low-key, busy, friendly environment.
If you or anyone you know sounds like the right fit for this role, simply apply by sending a cover letter and current CV to Annabel or phone either Duncan or Annabel.
Applications close July 17th, 2023
A reminder locals! We deliver for $5 to:
Napier & Taradale / Havelock North / Hastings / Te Awanga
Otane/ Waipawa / Waipukurau
* town / city addresses only *
If you live in Hawke's Bay with an RD address, you can collect from c/o The Strawberry Patch, 96, Havelock Road, Havelock North.
Our online shop is OPEN 24/7

If you order via our website and live in Hawke's Bay, you will still get the option for delivery or pick up from our Waipawa Butchery shop. If you're elsewhere in New Zealand, we will pop your order on an overnight courier to any town or city addresses.
Remember when you purchase from Waipawa Butchery, you are buying true farm to plate quality100% grass fed meat.
72 High Street, Waipawa
Monday – Friday 8.00am – 5.30pm
Saturday 8.00am – 2.00pm
ONLINE 24/7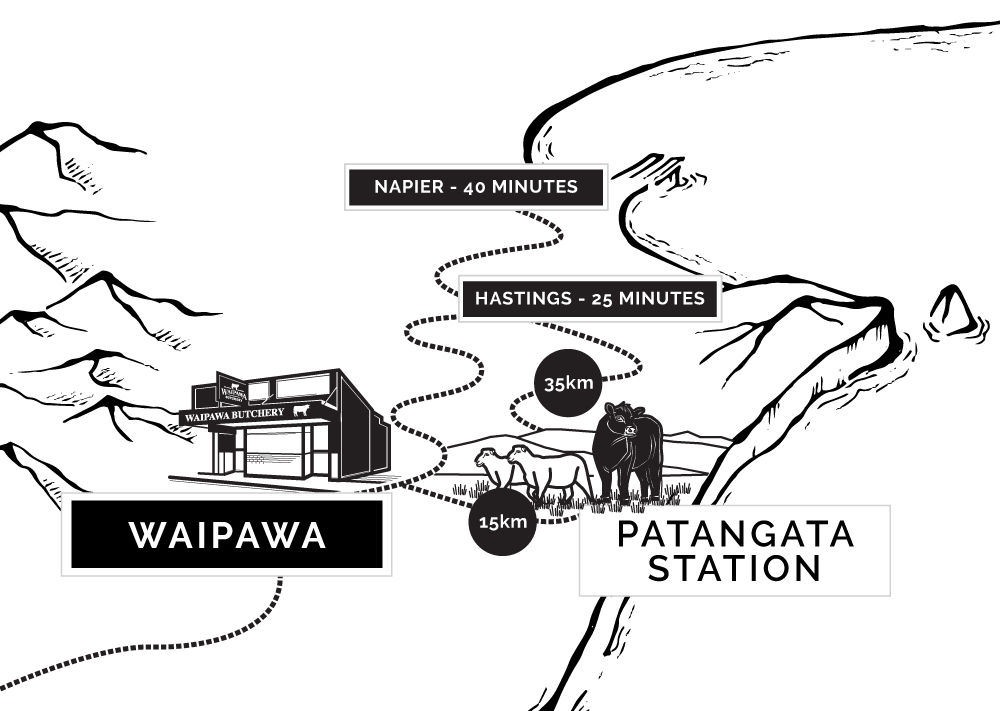 Make sure to get your orders in!
Kind regards
Annabel, Duncan and the WB team x